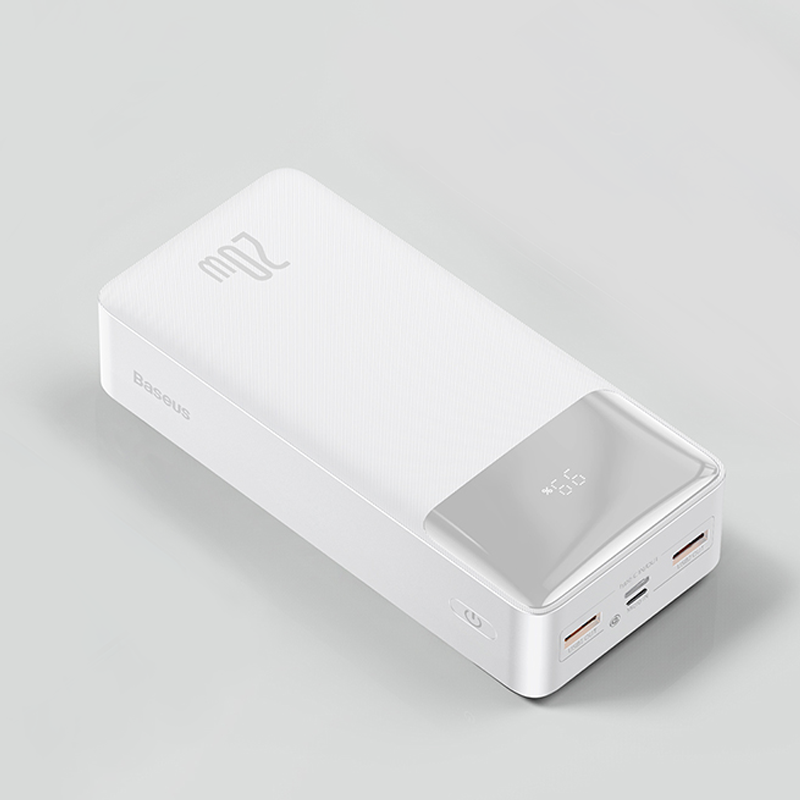 Customer Feedback
Top positive review
S***g From KR Write Feedback on 08 Dec 2021 18:27
Delivery : 2weeksDelivery takes two weeks.Input 65W Check, From 20% To 100% takes about 50min by 65W charger.When using a 120W charger, the auxiliary battery input is 65W. At 65W, 20% to 100% buffering takes about 50 minutes.Without 100W electronic machine, it is impossible to confirm whether the output power reaches 100W.For products purchased to charge a 65W low-power ultra Book laptop, when the laptop is charged by 10%, the backup battery is reduced by about 20%.Although it is faster than expected, considering the use of auxiliary battery, it can be used as auxiliary battery.Because there is a display screen, it is also good to use the remaining capacity, charging V, a confirmation and used output to display the remaining time of the standby battery.On the contrary, charging V and a will also be displayed during charging, and the remaining time will also be displayed. In fact, the remaining time is almost correct until buffering.Although it is bigger and heavier than expected, it is better to put it in the bag than the rod-shaped auxiliary battery.If you can't judge the size, it should be a small man's hand or a woman's handThe discount was about 47000 won. Considering the output of 100W, it is enough to buy.
Buyer From BR Write Feedback on 22 May 2022 17:07
Good charger, hard enough. Like buying.
J***a From CL Write Feedback on 23 May 2022 09:24
Arrived without trouble and fast. There prove, But am already charging it, to try.
D***a From BR Write Feedback on 23 May 2022 11:58
Took but arrived, power bank heavy and sturdy, well built.
Buyer From ES Write Feedback on 20 May 2022 19:07
Very good furniture and equal to the description. Recommended!!
Top critical review
O***v From RU Write Feedback on 15 Sep 2021 01:26
A little disappointed with the jar. According to the declared characteristics, everything is cool, in fact not everything. The adapter and cord from Poco X3 was charged from 15 to 95 somewhere 7-8 hours, no 4-5. But the biggest disappointment is the power consumption when charging the phone Poco X3 with a 5160 battery, with 20% to 100% charged somewhere for an hour and a half (written fast charge). He himself lost 31% for this time. And the phone I have far from new and I use it very actively, for sure the battery has already come up to 4.8-5 k. Probably, the nominal capacity of 12000 still works, but then in general somewhere to write 20000, if they do not smell? My laptop on type-C "charges", or rather keeps in place, the charge of the jar falls very quickly. According to the design and number of inputs/outputs, there are no questions, everything is fine. By weight is heavy for 12 K Total: nominal capacity 12000 +-available, but for some reason everywhere write 20000. The laptop "charges", but very quickly discharged. Design is good.
A***l From US Write Feedback on 21 May 2022 08:26
External battery only operate more after 8 days, the battery has completed a 10aine refills before falling down, all s'affiche well but do charge nothing of what I plug top Charging my samsung-1.7A x 4.4 V = 7.5 W
V***v From RU Write Feedback on 22 May 2022 01:31
The battery is good, quality standards! Well, that's for 13 pro in a case normally stays does not stick, magnet in original silicone cover medium. If no cover, then under 13 Pro battery lie straight in the eye unit cameras. Battery light. With 13 Pro Max since it bigger battery lies as must! But still with 13 pro with прилеганием with cover is a problem.
Buyer From RU Write Feedback on 22 May 2022 00:24
Working as stated. MacBook charges
What Country Buy Most
We can count the distribution of countries that buy Baseus Power Bank 30000mAh, There are total 472 reviews write by top 10 countries.47.25% (223) buyers are from Russia,17.8% (84) buyers are from Ukraine,8.26% (39) buyers are from Brazil,7.42% (35) buyers are from Korea (South),6.78% (32) buyers are from Israel,5.08% (24) buyers are from Belarus,2.54% (12) buyers are from United States,2.12% (10) buyers are from Kazakhstan,1.48% (7) buyers are from Netherlands,1.27% (6) buyers are from Canada,